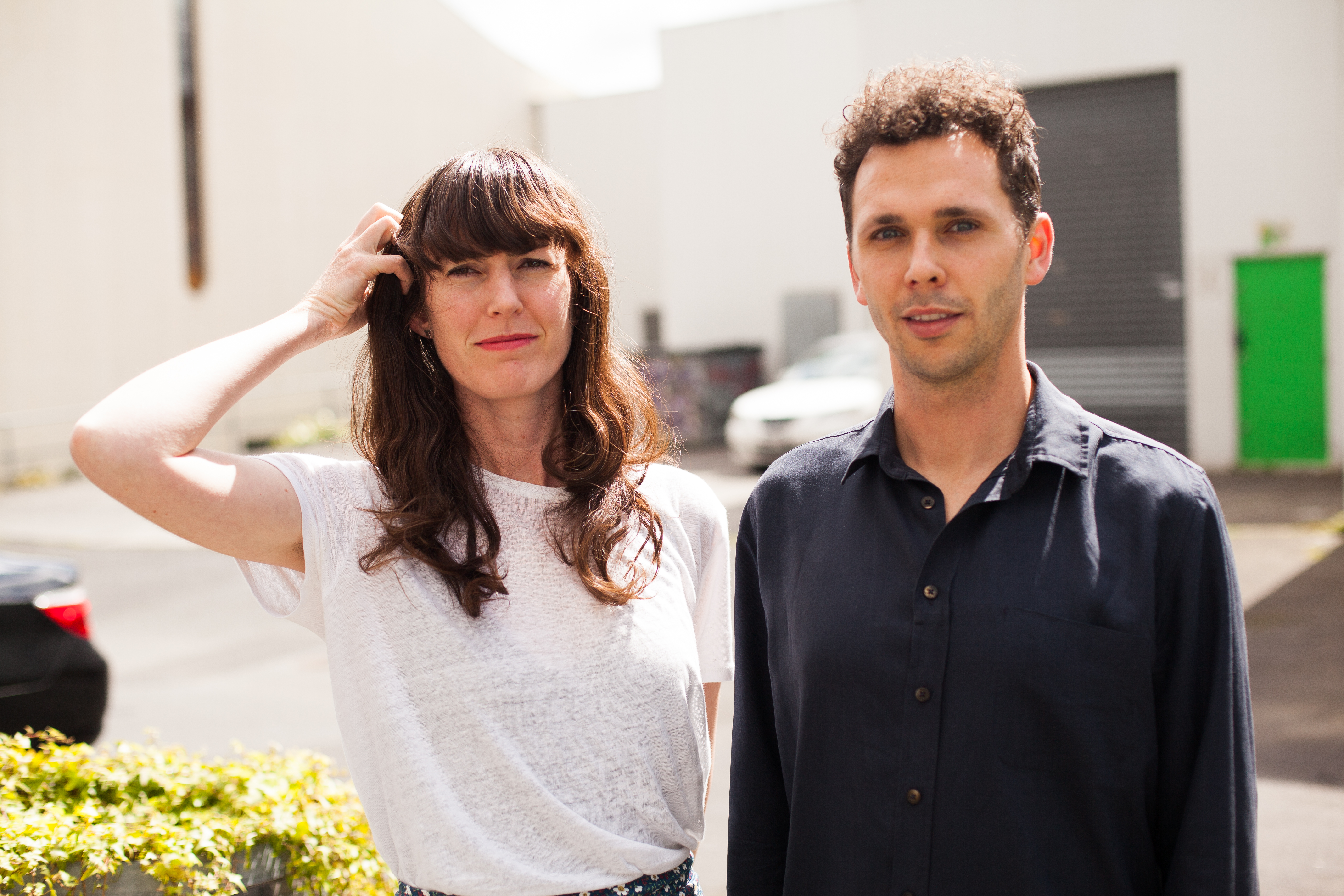 Paper Cranes 折り鶴 are:
Fraser Browne sings and plays the piano, guitar, harmonica
Naomi Browne sings and plays the piano, shakuhachi, harmonica
The current band are
Sam Kelsen who sings and plays the guitar
Jared Schulz who plays bass
Philip Upton who plays drums

Paper Cranes 折り鶴 music is a sip of folky pop goodness: warm, beautiful, sweet and balanced, with cherry and oak notes.
With songs that ponder the meaning of life, love, and our fleeting existence in this beautiful world, Paper Cranes 折り鶴 weave their stories into captivating and dynamic live performances, in songs that move between delicacy and abandon.
Husband-and-wife team Fraser and Naomi Browne are the driving force behind the group, and the music shows touches of their upbringing, a mixture of Japanese, Swedish and Australasia. They first met playing in various bands (including more than four weddings and more than a few parties), and started writing together after becoming a couple. The band's music delves into themes of togetherness and relationships, the echoes that pull us together and send us apart.
Originally based in Auckland, and now in Tauranga, Paper Cranes 折り鶴 have performed at Japan Day, Music in Parks, and many Auckland shows including Lucha Lounge, Backbeat, The Portland Public House, Flight 605, the iconic Bunker and The Wine Cellar, as well a number of festivals including Festival One and the Auckland Folk Festival. Four nationwide tours, and other smaller tours, have taken them throughout the whole country to support their releases Oh, Love!, The Road Home, and Voices including dates in Auckland, Whangarei, Tauranga, Hamilton, Wellington, Dunedin, Christchurch, Hastings, Palmerston North, Whanganui and Feilding.
Oh, Love!, their debut EP, was released on their website only in September 2012, along with the single 'Little Darling', which received NZ On Air funding after the band topped The Audience chart in October 2012. The grant was used to record the song for their debut album along with a haunting video clip shot in the beautiful Crystal Palace Theatre in Auckland.
In 2013 the band wrote two charity singles 'Solid Ground' and 'Love, Spread Your Wings', along with a video clip, in memory of those affected by the devastating earthquakes in Christchurch and tsunami in Japan in 2011.
'Again & Again' was released as the lead single off their debut album The Road Home, which was released March 20, 2015. The album was warmly received critically and reached number 6 on the local New Zealand charts, and number 29 on the NZ General charts, and was nominated for the Taite award in 2016. Paper Cranes 折り鶴 played on Good Morning TV, Kiwi FM, B Fm, and Life FM, Poor Boy Radio, and embarked on a full tour around New Zealand in support of the album 'Again and Again' was subsequently picked up by Farmers as their theme song for Farmers Autumn/Winter 2018 catalogue, before being remixed for Farmers spring / summer campaign.
Fraser Browne was nominated for Breakthrough Manager of the Year at the Music Manager's Forum annual awards in 2015, in the lead up to the release of The Road Home.
The band wrote their follow-up album Voices in Huia, near the beautifully scenic Waitakere Ranges in Auckland, and the port city of Tauranga. The new album was released on January 18, 2019 with the lead single 'Heartbeat'. It debuted at #1 on the IMNZ charts and #12 on the NZ artists NZ music charts, and the band went on a full tour in support of the album.  
Critical reception for Voices
"These are beautifully crafted and arranged songs – from hushed intimacy and confessions of weakness and need (Ghost Life with what sounds like Japanese wooden flute) to a more uplifting folk-rock style (Midsummer)" – Graham Reid 
"Haunting, iridescent, melancholic, congenial, Paper Cranes evoke a multitude of emotions in a short span of time. An unexpectedly stark release. Open and unrestricted, Voices is a spiritual unleashing of ideas" – Muzik.net 
Critical reception for The Road Home
"The Road Home [has] the air of an album that's just waiting for everyone to discover it" – Mike Alexander, Sunday Star Times
"[The Road Home] is an excellent debut by the small ensemble" – Graeme Reid, Elsewhere.co.nz
"The first full length from Paper Cranes, three years after their debut EP, proves well worth the wait, each song deserving a long pondered listen – Finn McLennan-Elliott, NZ Musician
"The Road Home is a quiet, intricate and carefully layered set of songs" – Gary Steel, Metro Magazine
Talk to us
Here we are on Facebook.
Or Twitter.
Listen on Soundcloud.
Look at random snaps on Instagram.
Here we are on Spotify. 

CONTACT US at band@papercranes.co.nz for any bookings
Click here to request a link to our electronic press kit (EPK).